Our Ministry Team is dedicated to helping you grow as a Disciple of Jesus Christ. We are passionate about knowing Jesus, preaching the Gospel, making Disciples, and living a Spirit filled life!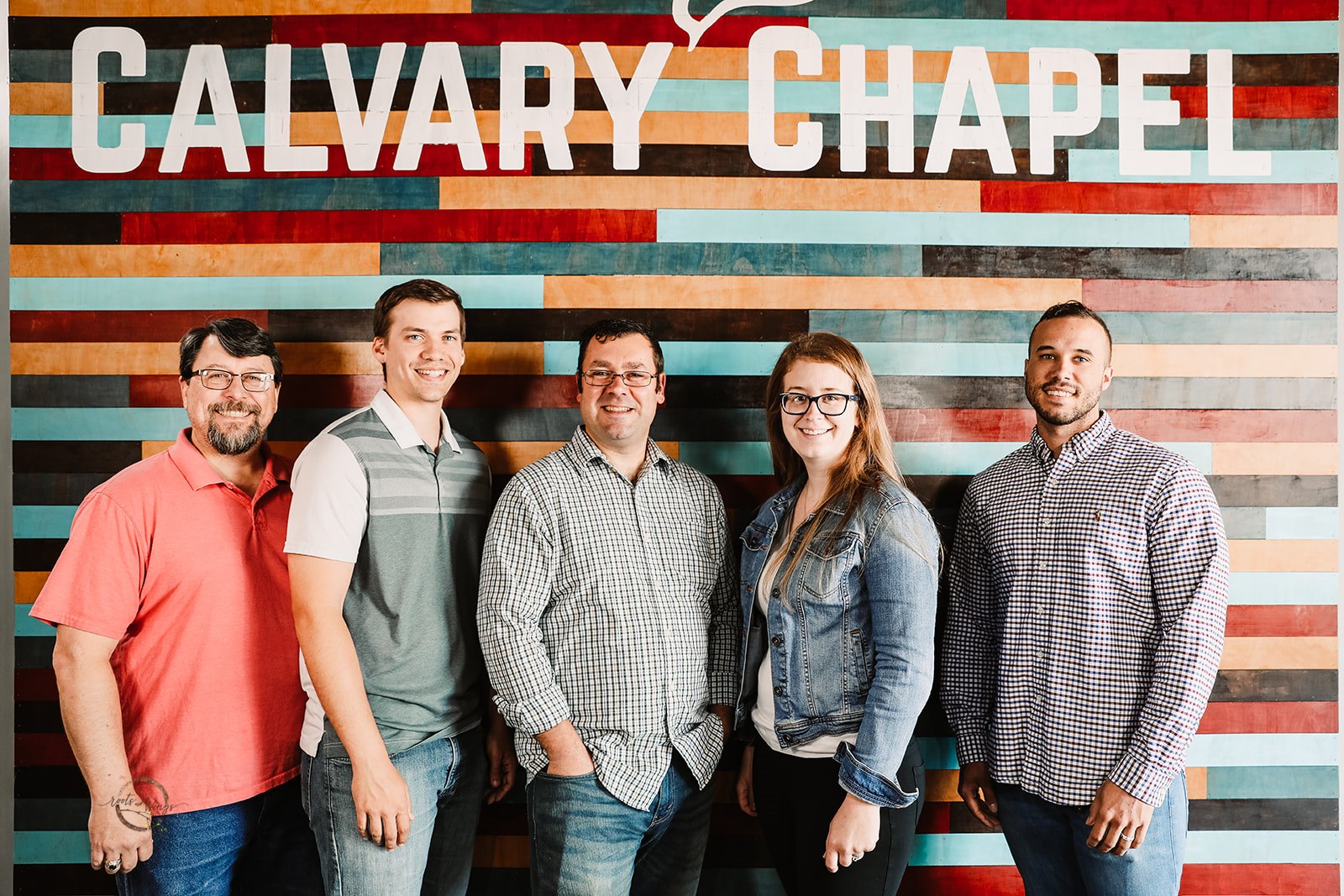 Our Team L to R...Elder Greg Smith, Pastor JP Garrison, Pastor Joel Dover, Shannon Mikulskis, Pastor Cody Clark.


Dr. Joel Dover, Senior Pastor
Pastor Joel Dover is the founding Pastor of Calvary Chapel Newnan. Joel was led of the Lord to start CCN in 2014 and the church began as a Bible Fellowship meeting in a local home. Joel has served churches in Georgia, North Carolina, and Virginia, and has been in vocational ministry since 1999. Joel earned a D.Min, in 2010 from Luther Rice Seminary where he graduated with honors. He also holds an M.Div and M.A.R. from Liberty Theological Seminary, and a B.A. from the University of North Carolina @ Wilmington. Joel is married to his college sweetheart Kimberly, and together they have three children. In addition to leading CCN, Joel is a part of the Biblical Studies Faculty at Calvary Chapel University where he dedicates his time to training Pastors and church leaders. When not teaching, Joel enjoys gardening, playing the guitar, and wood working.


JP Garrison, Student & Worship Pastor
JP Garrison joined the Calvary Chapel Newnan staff as the Student Pastor and Worship Leader in January of 2019. He holds a Bachelor's Degree in Biblical and Theological Studies from Regent University. JP is married to Stephanie and they are expecting their first child this Summer. JP was raised in east Tennessee where he developed and still holds a fierce loyalty to the Tennessee Volunteers. His hobbies include watching the Atlanta Braves, reading good books, watching good movies, losing keys, and going on walks (all with his wife). Pastor JP was ordained at CCN in 2020.
Cody Clark, Young Adult Pastor
Pastor Cody pioneered the Student Ministry at CCN from 2015 until 2019. He also started and presently oversees the ministry to our Young Adults. Cody attended the Calvary Chapel Bible College in Murietta Springs CA, and has been with CCN since the early days of the church. Cody was ordained at CCN in 2020. Pastor Cody works a full time job in the security sector, and is married with three children. When not serving the church, Cody enjoys fitness training, competitive dog grooming, and collecting antique milk bottles.
Shannon Mikulskis, Children's Ministry Director
Shannon Mikulskis serves as the Children's Ministry Director at Calvary Chapel Newnan. Shannon was born and raised in Newnan, Georgia. She is married to Jacob and together, they have two children. Shannon first met Pastor Joel while attending another church, and then transitioned with Joel to the Bible study group that eventually became CCN. She has a Bachelor's Degree in Business Management from the University of West Georgia. Shannon's hobbies include gardening, raising their family's chickens and goats, and photography.
Greg Smith, Elder
Greg Smith is an Elder at Calvary Chapel Newnan. Greg was born and raised in Abingdon Virginia, where he met his wife Theresa. Together, Greg and Theresa have three children and three grandchildren. Greg served for 22 years in the United States Army before retiring in 2012 and moving to Newnan. Greg has been with Calvary Chapel Newnan since the church began in September of 2014. Greg is an accountant by trade and possess a Master of Science in Accounting. In addition to serving as an Elder at CCN, Greg is also in charge of keeping the church financial records, and serving anywhere that he is needed. When not serving the church, or working in the accounting firm, Greg enjoys running, biking, walking, and hiking.
Not Pictured: Elder Sandy Adams and Elder James Chapman